THE CURTA CALCULATOR POSTER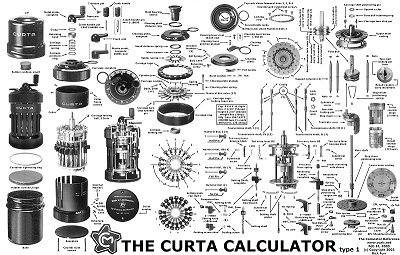 Introducing the classic Curta Calculator poster for all Curta fans. This fabulous poster shows a detailed layout of the inner working of Curt Herzstark's amazing machine. All Curta parts are close to actual size and displayed in multiple exploded views. Every part is labeled with its original name as designated in the Contina A.G. factory service manual. The elaborate and detailed poster design was nearly a year in planning and execution. Original factory photographs, drawings and artwork have been combined with new imagery to produce this engineer's view of a mechanical masterpiece. Many thanks are due to Carl and Jack for their encouragement and enthusiasm.
The Curta Calculator poster is very suitable for framing and will make a wonderful gift to any Curta enthusiast. It is an essential element in any Curta collection.
The poster measures 24 1/2" (62cm) in width and 16" (41cm) in height and is printed on high quality Strobe Gloss 100 pound paper. The poster will be shipped in a rugged 3"x18" Kraft Mailing tube.

---
Buyer Feedback!
The poster arrived yesterday and it's terrific! You did a really great job on it and I'd think any Curta collector will want one too. What a great idea you had and thanks again so much for creating it. -- Greg -- Hillsboro, Oregon USA
The poster was received today in perfect condition. I thank you for your prompt and friendly service. I'll be framing it and hanging it in my den. -- Jim -- Beachwood, Ohio USA
Thanks! This will hang in my office at NASA. I have a Curta that I inherited from my great Uncle. -- Donald -- Huntsville, Alabama USA
I received it a couple of days ago... Thank you! It's wonderful! Now I just have to find a frame and it will hang in pride of place in my house. -- Cath -- Bedfordshire, United Kingdom
Your wonderful Curta poster arrived well yesterday. Thanks and best regards from Germany. -- Hermann -- Bayern, Germany
I have received the wonderful curta poster and I am inspired. I congratulate you too this excellent poster. -- Bernd -- Langerwehe-Schlich, Germany
I received the Curta poster and it is beautiful to my eyes. Even the sturdy custom mailing tube is a keeper. I have the poster displayed temporarily in a poster frame with a thin plastic cover until I have a permanent frame made for it. -- Robert -- Alpine, Texas USA
Hi Rick. Just a quick note to let you know the Curta poster arrived today. I am VERY pleased with it and plan to frame it for my office. Thanks again! -- Sam -- Ridgecrest, California USA
Rick - the Curta poster is absolutely fabulous, both the production quality and the concept. It's something NO Curta Home should be without. -- Skip Godfrey -- Billings Montana USA
Hi Rick, thanks a lot, I just received the poster! It is fantastic, really well done. Greetings from Madrid, Spain -- Angela
Speedy, secure shipment of an excellent product. Great gift! Thanks. A+++ -- Bruce -- Okemos, Michigan USA
The Curta poster is great. I'm very pleased. Sent quickly, too. Thanks! -- Paul -- Hartland, Michigan USA
Really beautiful item. Really fast ship. Thanks for a perfect transaction!! -- Kerry -- Sayre, Pennsylvania USA
Excellent item, fast ship and well packed A+++++ -- Brian -- Lawrence, Kansas USA
Thanks for the poster that I just bought. It is great. -- Mark -- Santa Clara, CA USA
Hi Rick, Received the poster today. BEAUTIFUL!!!! I left very positive feedback. Thanks again -- Tom -- Stoughton, Wisconsin USA
Hi Rick -- Beautiful job on the poster! 'twill be framed soon. -- Larry in Springboro, OH USA
The Curta poster is wonderful! Thanks so much. -- Pam - Tucson, AZ USA
Hi Rick, The poster arrived today—it's fantastic! Absolutely beautiful! Thanks, Bob - Palo Alto, CA USA
Rick, Your work is outstanding! The poster is amazing; I've been studying it since it arrived. The detail and quality of the photos is excellent and the amount of data you have included is impressive. I noticed your name in the CURTA article in the January [2004] Scientific American (in the box on page 98 where the author, Cliff Stoll, thanks his elves) and now I know the source of some of the photos in the article since I visited your web site. -- Charlie -- Randallstown, MD USA
---
Countries Sold To (so far)
Australia
Canada
France
Germany
Ireland
Israel
Italy
New Zealand
Portugal
Spain
Sweden
Switzerland
United Kingdom
USA